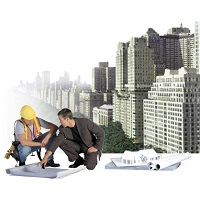 Building Contractors, also referred to as Real Estate Contractors, play a key role in providing basic comforts for your house. They cater to some of the fundamental requirements of electrical fittings, plumbing and painting etc. Getting a house constructed is a complex procedure and whom you hand over this responsibility to can make all the difference. So, before you entrust a company for this job, take a look at the below-mentioned parameters for selection and see to it that the contractor meets all or at least most of them…
Finding Contractors: You may take referrals from people at work, relatives and friends as word-of-mouth is a reliable way to go. You can also look up at online directories and take a look at the websites of different Real Estate Contractors in Dehradun to shortlist a few.
Initial Meeting: Prepare a set of questions before you meet the shortlisted contractors. Their way of communicating will give you an idea if you can deal with them to get your work done. Ask them about their experience in the domain, the way they carry out their work, how long they take to complete it and so on. A good contractor would not hesitate in answering such questions and make you feel confident about itself.
Material and Expertise: The works of a Building Contractor are meant to last for years and therefore, use of quality material and skilled labor is necessary. You should ask which brand's products they generally use and if they can accommodate your preferences for the same. If they have some on-going projects, make sure to pay a visit and see if the claims stand true.
Cost benefits: While selecting a contractor, it is necessary to compare the prices being offered by each. However, the rates they quote may not have any relation with their quality of work. Once you are confident about their reliability, prices can be negotiated and a little extra cost for a reliable one should not hold you back.
So start your hunt for a Building Contractor in Dehradun and gather all the details you can. Remember that your job does not end with the selection. You must keep an eye on everything while the work goes on, to see that things are happening the way you want them to. Any mistake with any kind of work would invite constant troubles for your living and their repair also involves a good sum of time and money.