How To Choose The Right Building Contractor?
Posted by Admin on December, 12, 2020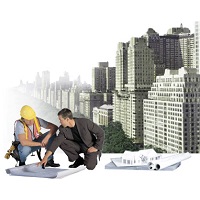 Any construction project can be a huge task and a cause of conflict for you and your loved ones. Don't ever be persuaded to give up employing a building contractor in terms of saving costs. Attempting to do the task on your own would just result in higher costs, stress, and long delays. Handling and coordinating separate workers and trade people on-site involves a good deal of expertise and experience.

The contractor oversees the whole project and will alert you of any changes or delays. His experience and skills would help get the project on schedule and on budget. Getting the best contractor is also necessary.

Below are the necessary tips to understand the credibility of a building contractor:

● Extensive analysis -
You need to do the research when you employ a construction contractor. Do an extensive analysis. Be certain you verify the contractor's past history by referring to his former clients. By approaching former customers, you will be able to figure out whether or not the builder complies with the building requirements. You can also search the reviews provided online to the contractor. Some people want to leave reviews on the vendors or service companies they have employed. This is beneficial to future customers like you.

● Look for local reviews -
Word of mouth reviews is still useful. If you meet the customers who employed the vendor, you might ask for a referral. Your relatives or peers will be likely to provide you trusting advice. One can also search online for several renowned construction contractors.

● Online research -
You can recruit a project contractor online from any of the top real estate platforms. These websites provide you with a directory of thousands of builders, building firms, properties for sale or rent, etc. The descriptions of the vendors can be found on these property listings. You will also get an understanding of the projects they've worked on previously. Many listed firms have different scores and can be reached either by real estate directories or directly by the firm.

● Proper documentation -
Upon selecting the contractor, make sure that you have completed your documentation appropriately. You should check that the document that is negotiated with the contractor includes all the terms of service and other details in depth. Be sure that all legalities are protected by the deal.

● Specialization -
Your venture could be distinct from many other projects. Therefore you have to select a building contractor in Dehradun who specializes in the type of project you need to be doing. Specialized contractors have greater expertise and understanding of the project being managed.

● Compare quotations -
It's good to compare quotations from a couple of contractors. Evaluating quotations will let you judge if the provider costs more than the real amount. You should also attempt to negotiate the price you have quoted, if you prefer, and believe the contractor's job.

Final Words:
The method of choosing a contractor requires a certain time and also some analysis, but you're going to be happy you've gone the extra mile. The suggestions above should come up and find a contractor that's a perfect fit for your venture.
This entry was posted on December, 12, 2020 at 12 : 36 pm and is filed under Building Contractor. You can follow any responses to this entry through the RSS 2.0 feed. You can leave a response from your own site.