Qualities Of A Good Building Contractor
Posted by Admin on March, 09, 2020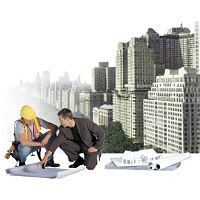 Contractors are not casual laborers as many would think. Being a contractor needs knowledge and experience for one to be an expert and satisfy his or her clients. Contractors should go beyond the boundaries of construction and designing, and must also ensure that the house accessories are also in the proper structure to create elegance and luxurious living. Any house that is undergoing through the hands of unqualified contractors is doomed to collapse. A Building Contractor In Dehradun ensures that only quality structures come into existence through deployment of professional skills in designing and setting up the houses.
Activities done by contractors.
First, it's the designing of the house in cooperation with the architect. Contractors stand there ensuring that they grasp every detail coming from the architect, and noting the things required down to avoid forgetting. A rough estimation of the cost of the house would then be made. From there, they ensure assembly of all the raw materials required in the building process to avoid stagnation of the project. This ensures quick completion of the house without any delay. Contractors work hand in hand with the architect and ensure that they are well informed to handle projects.

After the house is complete, contractors should ensure that its painted well and looks attractive. Mixing of colors should be done in an excellent manner as that would leave the house very spell binding. It is therefore required that if the building contractor is not good in decising the color scheme of the house, another contractor who specializes in the same be called to accomplish the task. From outside to inside, roofing and floors, walls and windows, all colors must be decided in such a way that it would appear pleasing to the final buyer and the user of the house.

Electrical contractors are there to ensure that your wiring is done in the proper way using the most competent wires and layout to avoid electrical shocks and burning of appliances in the house. Wiring needs the engineers; they design the wiring that is to take power from the external electricity and the one that is to take power from the standby generator when power happens to go off.

There are also plumbing contractors that ensure watering and draining system of your house is highly sorted; separating hot water system from the cold water system and ensuring that the pipes used are of high quality to avoid water shortage. If you need maintenance, they are always available to sort your plumbing needs.
This entry was posted on March, 09, 2020 at 15 : 53 pm and is filed under Building Contractor. You can follow any responses to this entry through the RSS 2.0 feed. You can leave a response from your own site.