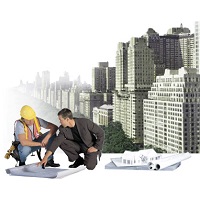 There are too many construction contractors in Dehradun and the main question that arises is that can they deliver the promises they make. Choosing the right construction company to carry out the work may be the arduous task since it is their expertise and input that would determine whether the project would run smoothly or not. While choosing the building contractor in Dehradun, make sure that he is focused on cost, time and quality of work. This way, you can avoid the project delay and also complete the project within the budget. Select the contractor who may provide you with the consultative service. You need both pre-construction service and also after construction or sales service. Always go for the contractor who is well accredited. The accreditation information must be available on the website of the contractor.
How to make your project a success?
Simply by choosing a proficient building contractor in Dehradun, you can make the project a grand success. Always opt for the experienced contractor who has established his name in the building construction industry. It is necessary to work with the company that has an exemplary track record with the needed experience in the building projects and several interior projects. The contractor must be enthusiastic, energetic and have an experienced workforce. You require the team of people who care about the project just like you do. The contractor must be necessarily committed to efficiently managing the project by keeping the environment in mind and the sustainability too.
Building of your dreams
Are you having visions of your dream house? Well, those dreams can materialise into reality with the capable building contractor in Dehradun. After deciding your budget, you need to ensure that the contractor you get is an experienced one. If you are building a residential flat, then the contractor must be experienced in that area. He must not be an expert in building the commercial complexes. The demands of the commercial buildings are much different from the residential ones. Do not hire the contractor who is proficient in building both commercial and residential buildings. It is the experience only, which will serve your project well.
Keeping the cost factor in mind, choose the building plan. You and the contractor together can make the building cost estimates. Make sure that the contractor understands your needs and demands. You need to draw up a contract with the contractor once you fix him up for your project. If any changes are required to be made in the building project, do not forget to amend the contract.
This entry was posted on March, 09, 2020 at 15 : 08 pm and is filed under Building Contractor. You can follow any responses to this entry through the RSS 2.0 feed. You can leave a response from your own site.